Randy's Huge Load (33 min)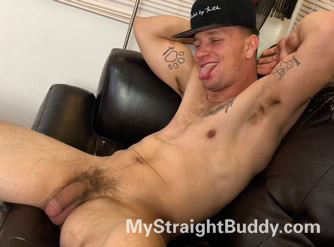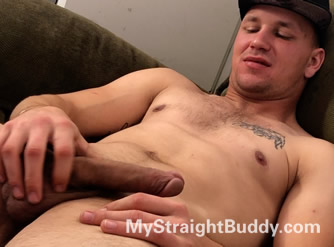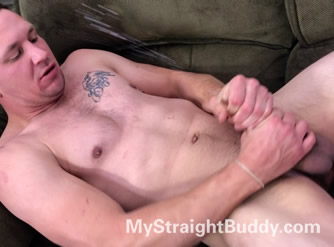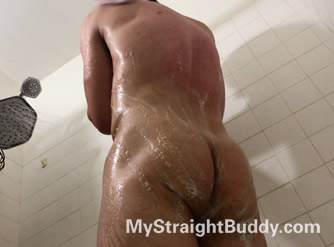 This video actually starts right after the game, Randy is still smoking the cigarette he lit at the end of the last one. Exhausted from all his hard work running after a pong ball, Randy hangs out on the couch for a bit casually showing off his hot body and answering my dumb question about the USMC and his time in, which as of this video he had about a week left (as I mentioned in the last video, if you were on my public snapchat (msb_joe) you would have got to follow along with us as we roadtripped back to his hometown after his last day).
After some Q&A we all move into my office so I can put on some porn for him. The porn wasn't enough though and his girl had to step in to help out, completely out of frame of course so you don't see her. When he gets hard you can see that he has a big o' mushroom head, and he does indeed shoot a huge load at the end. It's rather abrupt because the only way for him to cum is to fuck her, and she wasn't down to get that on camera. So I had to step out for a minute and rush back in for the money shot. Totally worth it to see this hot straight af Marine shoot his load on his own face.
After that he hops in the shower. My boy Zack came over while we were shooting and you can hear me telling him to hang on cuz we'll be right out.
Don't worry about Randy having got out either, I have a ton of amazing videos with him already that I'm just now releasing cuz he's out.
At the end of the last video, after Randy was done getting stripped for his beer pong game, it came out that Randy "always shoots huge loads". Of course I couldn't let a statement like this go by without fact-checking it. The only issue being that after several rounds, his dick wasn't as enthusiastic as we were. No worries, his girl was there to help out. Once again you won't see her at all, but you can tell she's there (and that Randy is straight) when he jerks off with one hand on his cock and the other with three fingers up her cootch while she's juuuuust out of frame. Again, you don't actually see her at all, just his reaction to it.